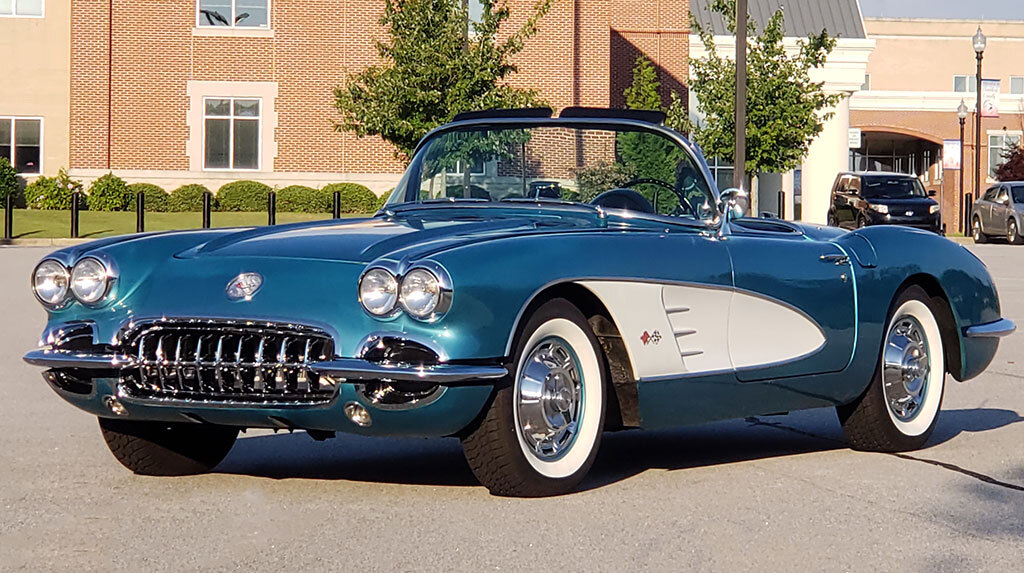 Don Kingore had a lifelong dream of owning and cruising an early Corvette. In winter 2019, he began tearing apart and rebuilding this 1960 Corvette in his home garage. He chose a design theme that reminded him of 1960s when early used Corvettes were affordable sports cars that could be owned by young enthusiasts.

Don did just about all the work on the Corvette himself, except for occasional help from a close friend. He swapped in a TREMEC TKO 600 5-speed purchased through TREMEC Elite Distributor Silver Sport Transmissions, upgraded the suspension, redone the interior and replaced the original 283 with a built 383 fuel-injected small-block. The car now looks stock when you first approach, but upon closer inspection, reveals its modernized and more cruise-friendly state.

When did you first get your TREMEC-equipped vehicle?

I bought my 1960 Corvette about 4 years ago with the intention of restoring it to a restomod. I wanted to build a car that stayed true to a 1960s look but could be driven easily and for long distances with no issues.

Where did you buy this TREMEC transmission?

Silver Sport Transmissions out of Rockford, Tennessee. It was an entire prepared kit for a 1958-1962 Corvette. I also bought Silver Sport's hydraulic clutch upgrade to replace the factory bell-crank mechanical clutch system. That definitely makes pushing the clutch pedal a lot easier than the original Corvette system!

Why did you choose a TREMEC transmission?

I think the TREMEC TKO is the best engineered equipment for my application. It fit in the tunnel without modifications, had gear ratio options and had a reputation for strength, reliability and smooth shifting.

What do you like most about your TREMEC transmission?

RESPONSE! The transmission has a solid feel, and it only takes a quick throw to changing gears.

What does the TREMEC transmission allow you to do that you couldn't before?

With the TKO, I can cruise the highway around 80 mph with the 383 only turning around 2,200 rpm. That's a far cry from the C1's original Borg-Warner 4-speed. I can drive the Corvette to events far away as easily as if I were driving a modern car.

What modifications did you make to install your TREMEC transmission?

Very little – exactly why I bought this unit. The only thing I had to do for a 1960 'Vette was trim the ashtray pit.

What kind of shifter did you choose?

It was included in the Silver Sport kit, integrated into the transmission with a tribute-looking shift handle.

Tell us about the 383 engine.

It was built by Proformance Unlimited in Melbourne, Florida. I was very sensitive to keeping my 'Vette vintage-looking, so I did not want to use an LS engine, despite the popularity of converting early Corvettes to LS power. I did, however, want EFI, so I choose to go with a FiTech dual throttle-body setup to mimic a factory dual-quad, high-horsepower Corvette engine. The 383 was also chosen because there were 283 'Vettes made in my car's original 1960 color combination of Tasco Turquoise, White Coves and black interior. More horsepower is never a bad thing either! The engine dynos at 470 hp and 450 lb-ft of torque.

What other mods have you made to the Corvette?

The custom exhaust features cutouts. I added rack-and-pinion steering and coilovers in front. The rear end is a Ford 9-inch with four-link suspension, coilovers and 3.70 gears. The car now has Wilwood Engineering four-wheel disc brakes. I also installed a Vintage Air air conditioning system and RainGear windshield wiper system.

What's this Corvette's story?

My Corvette is/was a Franken-'Vette of sorts, and I'm not sure about much of its history. I know it was built in St. Louis around late June 1960. This car has been sold twice at auction, and I bought it from a broker. I wanted a 1960 Corvette because that's what my father had when he got out of the Navy and later dated my mother in. That Corvette was the "cool car" I only heard stories about growing up, but it became the symbol of success for me and a goal in life.

What type of driving do you enjoy with the vehicle, such as autocrossing, cross-country drives, drag racing, track days, and so on?

The car is built to drive; I do not plan on hiding it. Cross-country, historical events, car shows, etc. And the TKO 5-speed makes it easy to do all that stuff.

If you could give anyone considering a TREMEC transmission advice for making their choice, what would it be?

Great piece of equipment, great product support and very well-engineered for my situation. The transmission feels well-built and strong.

Did you use the TREMEC gear selector app when figuring out what rear gear to choose?

Yes! It was a very big help in reassuring me during the purchase process that the combo of gear ratios I selected with my TKO and the rear gear would match up perfectly and make the car drive like I wanted it to.

Did you use the TREMEC driveline angle finder app for setting up the drivetrain?

Yes. The driveshaft isn't very long in a C1 Corvette, especially with a longer transmission like the TKO. The app helped me make sure everything was aligned properly so that I wouldn't have any funky vibrations or premature wear on the driveline.

What future mods/upgrades do you have planned for the car?

Further bodywork, up to and possibly including a new front clip. I'd like to look at a higher-quality paint job eventually, a custom stereo with more modern features and wider wheels and tires to put more of the 383's horsepower to the pavement, but they will look close to stock and MUST maintain the original hub caps!
https://tremec-blog.com/don-kingores-tko-equipped-1960-corvette/#more-1696