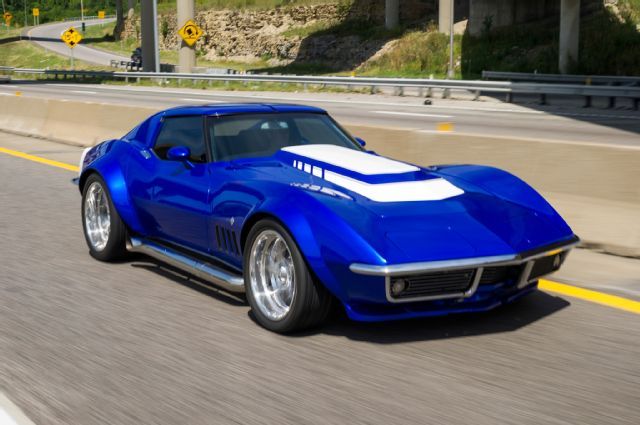 C1 Early Years:
1953 Corvette was introduced with 235cid six-cylinder engine (150hp) and two speed automatic transmission. All 300 first edition Vettes were Polo White roadsters with red interior. Vette plant located in St. Louis, Missouri.
1954 Exterior paint choices added.
1955 265cid OHV V8 engine and manual transmission introduced, also the last year for six-sylinder engine. V8 produced 195hp with a four barrel carburetor, standard version produced 155hp.
1956 New bodystyle with roll-up windows and optional remowable hard top introduced. 265cid engine was boosted to 225hp.
1957 Fuel injection appeared as an option and the V8 engine enlarged to 283cid, also optional four speed manual transmission came available.
1958 Dual headlight units introduced.
1959
1960 New tail
1961 Prototype called XP-755 Mako Shark was built for Bill Mitchell.
1962 Small Block engine enlarged to 327ci



C2, Mid Years:
1963 Only year for Split Window Vette. Sting Ray era begins. Five Grand Sport Corvette were produced for racing purposes only. All five Grand Sports are today in collectors hands!
1964
1965 Last year for Fuelie option and first year of BigBlock option. First BB was 396cid and produced 425hp. Four-wheel disc brakes became a standard. Work for new vette generation begun.
1966 Big Block engine enlarged to 427cid.
1967 Big Block was available with three Holley two-barrel carburetors and it produced 435hp. King of the hill was L88 vette, it had 427 BB which produced about 550 horses, although GM said that it produces 430 horses... GM also mentioned that this is an off road engine.



C3, Shark Body:
1968 New sexy "Coca-Cola" bottle shape. 435hp L71 was still offered. 80 L88 vettes were produced.
1969 Stingray. Base engine was enlarged to 350cid. 116 L88 vettes produced. Two ZL-1 Sting Ray Coupes were unleashed, Again Chevy said that this engine produces 430 horses, but in real life it produced over 500 hp...
1970 Big Block reached it biggest form as a 454cid version, engine code was LS-5 and it produced 390 horses. 370hp small block was also offered it's code name was LT-1. ZR-1 vette appeared it had LT-1 engine with 4speed Muncie transmission, only 25 were produced this year.
1971 Power of the LT-1 engine dropped to 330 hp. Only 8 ZR-1 vettes were produced.
1972 Horsepower ratings dropped again, now LT-1 produced only 255 hp, this was also the last year for LT-1 option, 1741 LT-1 were built. This was also the last year for ZR-1 option and only 20 ZR-1 vettes were produced. 454 BB produced only 270hp this year.
1973 Front chrome bumber was gone but it still remained in the back.
1974 Last Big-Block year. Chrome bumber was gone from rear too. Rear bumber was made from two pieces so there was a seam in the middle of the bumber.
1975 Rear bumper is now one piece and the seam is gone. '75 was also last year for convertibles, until it reappeared in
1978 New fastback rear window. Two tone 25th Anniversary model (RPO B2Z), 15,283 silver anniversary vettes were produced. Indianapolis Pace Car was the other special model for '78 it had also two tone painting (black / silver with silver interior) and 6,502 were sold. Optional L-82 350cid engine produced 220hp. All '78 cars had special 25th anniversary badges.
1980 Facelift
1981 New Vette plant started production in Bowling Green, Kentucky, in July.
1982 Cross Fire injection became a standard and Collectors Edition was released. Productions of these Collector Edition cars were 6,759.



C4:
1983 There is no '83 model vette... Well actually 40 were built, but none were sold. Only one '83 vette is still alive.
1984 First year of C4. Engine was 350cid, 5.7-liter, called L-83 and it produced 205hp.
1985 Cross Fire injection changed to Tuned Port Injection.
1986 First convertible since '75. INDY 500 replica was released it was yellow convertible.
1987 Callaway Twin Turbo offered as an option (RPO B2K). Twin Turbo produced 345hp and it stayed on the option list till the year 1991.
1988 35th Anniversary model was released, it was white even the wheels were white it also had white interior. 2,050 35th anniversary models were sold.
1990 ZR-1 revealed, at first year ZR-1 had 375hp 350cid LT-4 engine. 3,049 ZR-1 Vettes where sold this year.
1991 Little facelift, which included plump rear end and smoother nose. Last year for Callaway Twin Turbo option, Callaway also offered Twin Turbo Speedster this year. Speedster was powered by 450hp Twin Turbo small block.
1992 Millionth Corvette rolled out from the plant on July 2. It is Arctic White with red interior. Now this Millionth Vette is in the Corvette Museum. Second generation LT-1 was introduced with 300hp. 2,044 ZR-1 vettes produced.
1993 Ruby red 40th anniversary model. Rarest 40th Anniversary model Was ZR-1 only 245 were sold. Altogether 448 ZR-1 vettes were sold. Total number of 40th Anniversary models were 6,749. 1994 448 ZR-1 vettes were sold.
1995 Last ZR-1 with production of 448 pieces. INDY Pace Car, 3rd time that vette was INDY Pace Car.
1996 Silver Collectors Edition and blue Grand Sport with white stripes from front to rear. Optional LT-4 engine offered. LT-4 produced 330hp, LT-4 was offered only with 6-speed manual gearbox. LT-4 was base engine for Grand Sport option.